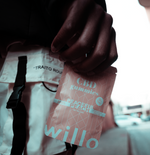 Intro – Everything you've ever wondered about CBD
Hi! Willo here 🧡 CBD often gets a bad rap because people think it's the same as THC (spoiler alert: it's not), will get you high (it won't), and is only sold by shady stores (that's why we started Willo!), etc. Well, we're here to dispel the myths and answer your burning questions. In fact, half of our team doesn't even use THC products and exclusively consumers our CBD line (we love it for those annoying headaches and for when we can't sleep at night)!
Okay, so what exactly is CBD?
Cannabidiol (CBD) stands for cannabidiol. It is the second most prevalent of the active ingredients of cannabis (marijuana), which is why sometimes you'll see brands reporting both THC and CBD % in their products. CBD is derived directly from the hemp plant, which is actually a cousin of the marijuana plant. While CBD is a component of marijuana (among hundreds of others), by itself it does not cause a "high." According to a report from the World Health Organization, "In humans, CBD exhibits no effects indicative of any abuse or dependence potential…. To date, there is no evidence of public health related problems associated with the use of pure CBD."
Willo CBD is lab-tested 100% CBD with 0% THC, meaning no high whatsoever. We use only 100% pure CBD isolate for a high-quality product that delivers consistent (and awesome!) results every time.
Okay sounds good. What are some of the benefits of CBD?
Some possible CBD benefits include:
Helping those who have trouble falling asleep or for a more restful sleep 😴
Less anxiety/stress
Coping with depression
Mood enhancer
Mild relief from pain/inflammation
Workout recovery 💪🏼
Research also indicates that CBD may help with: acne, anorexia, anxiety, chronic pain, depression, drug addiction and withdrawal, epilepsy, glaucoma, high blood pressure, insomnia, muscle spasms, and Parkinson's disease. (WOW!)
Are there any side effects?
Though it's often well-tolerated, CBD can cause side effects, such as dry mouth, diarrhea, reduced appetite, drowsiness and fatigue. CBD can also interact with other medications you're taking, such as blood thinners. Willo recommends consulting a physician about using CBD to treat a specific medical condition or ailment. While medical professionals might not yet have clinical expertise regarding CBD, they may still be able to provide guidance on the optimal CBD dosage for each patient.
Difference between oral CBD and topical CBD?
First things first, oral CBD is ingested (either via an edible, tincture, or a capsule) while topical CBD is applied to the skin (think a lotion or lip balm).
Oral CBD
Sublingually or "Under the tongue"
This method means placing drops of CBD oil tinctures under your tongue and holding it there for some time (we recommend 30 to 60 seconds) before swallowing. This way, the CBD gets absorbed via the capillaries in your mouth and enters directly into the bloodstream and eventually to the cannabinoid receptors of the endocannabinoid system (ECS).
This method of taking CBD has one of the highest bioavailability (read: absorbed quickly = quicker results) percentages in comparison to other CBD applications. Because the CBD molecules are sent straight into the bloodstream through the mucous membranes found in the mouth, they bypass becoming metabolized initially through first-pass metabolism.
Ingestion
Ingesting CBD is to directly swallow CBD either in the form of a pill, softgel, gummy, or other edible means. When eating CBD, the molecules go through your digestive system and then to your liver where they are initially broken down via first-pass metabolism.
After the liver metabolizes the CBD, the remaining compounds are then sent to the bloodstream. This is why ingesting CBD has such low bioavailability; the digestive enzymes break it down into unusable components before reaching the blood. However, research shows effects of ingested CBD last longer than any other application method.
Oral CBD Examples:
Many types of CBD products created for oral consumption are available:
Oil tinctures -

 

CBD tinctures

 

are a quick and easy way to integrate CBD into your everyday life. Place a few drops (depending on strength) underneath your tongue and hold it for up to 60 seconds, then swallow. You can use a tincture either in the morning or at night, and you can quickly increase your serving size based on your needs.
Capsules and softgels - CBD capsules and softgels are probably the most convenient way of ingesting CBD. Take a pill or two with a glass of water at night or in the morning. And there's no need to overthink about measurements; each pill contains the same amount of CBD oil, so you know how much you're taking exactly.
Gummies - CBD gummies are another convenient and delightfully tasty way of getting your daily serving of CBD. Similar to capsules and softgels, each gummy piece has the same amount of CBD infused into it. And with such delicious flavors, the taste may win you over as much as the wholesome CBD benefits. 
Topical CBD
CBD topicals help soothe mild physical discomfort; they're infused with CBD and applied externally to a specific part of the body. The CBD from these topicals becomes absorbed into the epidermis and pores and interacts with the cannabinoid receptors found in the skin. Many people choose to use CBD topicals because they can quickly and easily apply the wholesome benefits of CBD directly where they need it. This method is also less invasive for CBD newbies.
Because you apply CBD directly to the area of discomfort, the effects are typically immediate and more centralized than other application methods. However, CBD topicals have low bioavailability – meaning no matter how much you apply, your skin acts as a barrier and doesn't allow CBD to reach the bloodstream. Furthermore, the cannabidiol molecules from CBD topicals don't need to reach the bloodstream necessarily because they bind and stimulate the CB2 receptors within the skin that make up part of the endocannabinoid system (ECS).
What is the recommended dosage?
Recommended dosage depends on many factors such as weight, diet, metabolism, medications, genetics, and medical condition, formulation/quality of the CBD, and also the reason for taking CBD. Willo CBD is lab-tested 100% CBD with 0% THC, meaning no high whatsoever. For anxiety/stress, we recommend starting with 10mg (half of 1 Willo CBD gummy).
For pain/inflammation, we recommend starting with 20mg (1 Willo CBD gummy). Wait 1 hour to evaluate your results before slowly increasing your dosage. As you become more accustomed with CBD, you'll become more familiar with what dosage you require for your specific needs.
Can you have too much CBD? 🧐
If you consume pure CBD, you are unlikely to get sick or experience unpleasant side effects. A 2017 World Health Organization (W.H.O.) report concluded that CBD is "generally well-tolerated with a good safety profile," and further stated that "in humans, CBD exhibits no effects indicative of any abuse or dependence potential."
However, people participating in CBD-related studies have at times reported several side effects, including extreme sleepiness, decreased appetite, diarrhea, fatigue, convulsions, vomiting, and some abnormal results on liver function tests.
Of course, other factors could complicate the effects of CBD and could be responsible for adverse reactions. For example, adverse effects could stem from an interaction between CBD and the patient's existing medications. 
Can you overdose on CBD gummies?
Regardless of the product and how you're taking in the CBD itself, the answer doesn't change. Q: "Can you overdose on CBD gummies?" A: "Simply put, nope!" When you eat a CBD gummy, your body will metabolize the CBD differently than it will if you smoke or vape CBD. While this could change how long it takes the CBD to go into effect or how long the effects last, it won't change the toxicity of CBD. 
Legality
Since October 2018, cannabis — both hemp and marijuana are legal for both medical and recreational use.
Today, you can purchase hemp-derived CBD products and marijuana flowers across Canadian dispensaries without a doctor's prescription.
Resources
https://www.who.int/medicines/access/controlled-substances/5.2_CBD.pdf
https://www.health.harvard.edu/blog/cannabidiol-cbd-what-we-know-and-what-we-dont-2018082414476
https://www.verywellhealth.com/cbd-oil-benefits-uses-side-effects-4174562
https://www.cbdmd.com/blog/post/difference-between-topical-and-oral-cbd
https://www.healthline.com/nutrition/cbd-oil-benefits